I have worked with several routers over the past few weeks and was in the middle of deciding what I wanted to use, and yesterday there was a sale for a router on 1saleaday that was cheap enough to play with. But I procrastinated and missed the sale.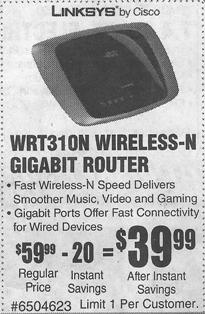 But that is a good thing because I came accross a sale in the December 2nd 2011 Fry's Ad for a Linksys WRT310N router.
I actually already own the 610N, so I have experience with it and the price was reasonable.
If this was a Mail In Rebate Deal I probably would not have purchased it, but it was 39.99 + 3.80 tax out the door.
So I grabbed another "customer" and we went to Fry's and purchased two of these routers for my experimentaion.
So now I have 3 which when I am done messing with, and experimenting, will go into production.  I am still unsure what the final network topology would be but at this price I am willing to give it a try.
My Experiance
I did not purchase my first router 610N, it was actually given to me by my sister because it had so much issues.   She did call Linksys Tech support and they were going to charge her quite a bit to reflash her router.  If I recall it was about $100, which from a labor perspective is right (I think it was out of warranty), but from a financial perspective it did not make sense.
So she asked me to take a look at it, from the get go it did crash a lot.  It sat around for a while at my place after my sister decided to buy a another model.
My colleague A.J. helped me flash this router.  He noted that this was Version 1 of the hardware and he had version 2, both seemed to have stability issues.  But seemed to come down to heat, he drilled some vent holes in his and that resolved his issues.
I did not drill any holes in mine, but I did have some stable uptime for months, until an update last week, the uptime on this router was over 100 days.
That works for me, I seem to reboot my comcast router more often.
The General Specifications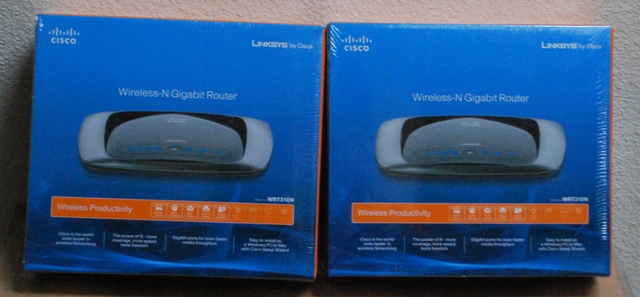 I am going into a lot more detail later on these particular models.  But here are the specs from the box.
These are WRT310N Cisco Linksys Routers
It has a single 2.4GHz antenna,
Four Gig Ethernet Ports
A Single WAN Port
Not much info.